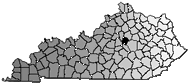 The Ebenezer Church is located
in Central Kentucky's Bluegrass Region.
The Ebenezer Associated Reformed Presbyterian Church is located a half mile west of the Keene-Troy Road (KY 1267) on Ebenezer Church Road, three miles southwest of the community of Keene.
Click map to enlarge.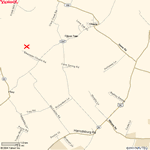 The Ebenezer Church and Cemetery are owned and operated by the Ebenezer Cemetery Association.
The grounds are open daily, during daylight hours, solely for the visitation of friends and family of the burial sites contained within the Ebenezer Cemetery.
Any other use of the grounds or facilities without the express written consent of the Ebenezer Cemetery Association is strictly prohibited and shall be considered trespassing per KRS 511.080