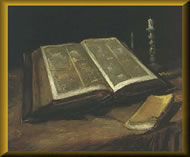 What else was happening during the time Ebenezer Church was being organized?
In the Region?
In the World?
CLICK FOR MORE INFO

The Ebenezer Associate Reformed Presbyterian Church was organized by Reverend Adam Rankin between 1793 and 1798**. The original church was a log meeting house located on one and one-half acres of land owned by Ephraim January, and which he and his wife Sarah deeded to the church for ten dollars. In 1803 the log house was replaced by one built of stone.
Reverend Rankin served as pastor of the church until 1803 when Reverend Robert. H. Bishop was brought in from Scotland. Rankin was opposed to Bishop to the extent that Bishop's ordination was prevented until 1808. Other confrontations occurred between the two, resulting in Bishop's leaving Ebenezer in 1814 and Rankin's suspension from the ministry in 1814. Between 1814 and 1841 the church was supplied by a variety of traveling ministers. In 1841 Reverend Neal Gordon became minister and remained through 1870.
Among Ebenezer's first members were: Mr. and Mrs. William Evans, Mr. and Mrs. Thomas Woods, Mr. and Mrs. William Garrard, Mr. and Mrs. Robert Guyn, Mr. and Mrs. Ephraim Tanner, Mr. and Mrs. Thomas Read, Mr. and Mrs. Robert Black, Mr. and Mrs. James Black, Hugh Garrett, Robert Lowrey, Mrs. Nancy Drake and the Lambkins, Beattys, Longs, Scanlands, Reamers, Hedges, Phillipses, and Logans.
Reverend Gordon's death along with a change of roads and lines of travel that rendered Ebenezer's location unsuitable, contributed to the decline of the stone church.
Church Members of the Ebenezer Church and the nearby Clear Creek Church congregations formed the Troy Presbyterian Church, which was built in 1875.
(Approximately 20 members continued to faithfully meet in the old Ebenezer Church for a number of years. Those members founded the New Ebenezer Church which was constructed in Woodford County in 1883. After 1909, the membership of the New Ebenezer Church began to decline. The New Ebenezer Church building was sold off and razed in 1951.)
The old Stone Ebenezer Church building was abandoned by 1883. Due to neglect, the stone building collapsed sometime before 1922. In that year the Ebenezer Cemetery Association was formed. The association, formed by friends and descendants of the Ebenezer congregation, is dedicated to preserving and maintaining the church and grounds. In 1953 the original stone building was restored.

Next to the building is the cemetery which contains graves of many of the church founders and their descendants: Guyn, Lowrey, Lowry, Gordon, Black, Moffett, Mahin, Woods, January, Crutcher, Young, Garrett, Steele, Beach, Montgomery, Renick, McCauley, Davis, and Simpson.

The Ebenezer Church is on the National Register of Historic Places.
**Bennett H. Young reports in his 1898 History of Jessamine County that the church was organized between 1785 and 1790.