OLDEST HOUSE
IN LEXINGTON, KY: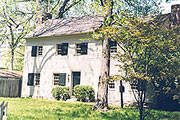 Built in 1784 for pioneer minister Adam Rankin, 317 South Mill Street
.
---
FIRST BOOK
PUBLISHED IN LEXINGTON

CLICK IMAGE FOR LARGER VIEW
Adam Rankin is credited with publishing the first book in Lexington in 1793. The book explains his views on Psalmody.
Reverend Adam Rankin Served 1793-1803

Born: Near Greencastle, Pennsylvania, March 24, 1755
Died: Philadelphia, Pennsylvania, November 25, 1827

"There can be no question that Mr. Rankin was 'encompassed with infirmities,' that he was sensitive, a little jealous, impulsive and strong of will, so that he soon put himself on the defensive, and always with his face to the foe, and he had the misfortune of living at a time when ecclesiastical things did not always run smoothly. On the other hand, it is just as certain that he was loyal to the truth and valorous in its defense, however faulty in his methods. He was of unquestioned piety, and commanded the full confidence of those among whom he lived. He possessed unusual eloquence and power in the pulpit, and often moved a whole congregation to tears."
...from the Manual of the United Presbyterian Church in Nor ht America by WIlliam Glasgow.
The Reverend Adam Rankin was descended from pious Presbyterian ancestors, who had emigrated from Scotland. His parents steered him in the way of the ministry from his birth.

He was received as a candidate for the ministry at the Stone Meeting House in Augusta County, Virginia, in November 1781. He was enrolled at Bethel Church, May 18 1784, and about this time he married Martha, daughter of Alexander McPheeters, of Augusta County, Virginia.

In 1784 he was in Kentucky and founded the churches of Pisgah in Woodford County, and Mt. Zion which is Lexington, Kentucky's pioneer church. It is likely that he was the first minister to settle in Lexington. He attended a conference of Presbyterians at Cane Run Church, Tuesday, July 12, 1785, and sowed the seeds of discord about Psalmody.

Psalmody was a way of singing the biblical Psalms. Rankin spent much of his life arguing against Psalmody. In 1792 he was suspended from the Presbyterian Church for his views.

Read the account of Rankin's rantings against Psalmody.
He was received into ministry with the Associate Reformed Presbyterian Church in 1793. Shortly thereafter he organized the Ebenezer Associate Reformed Presbyterian Church.
Mr. Rankin did not live a peaceable life in the Associate Reformed Presbyterian Church and he was a source of irritation to his brethren in the ministry and to the churches too. He was especially in disagreement with Reverend Robert Bishop, pastor of Ebenezer Church, 1803-1814.

Rankin was eventually suspended from the Associate Reformed Presbyterian Church for his slanderous attacks on Reverend Robert Bishop.
It's not surprising that two men of such different backgrounds were constantly at odds. Rankin, the son of Scottish immigrants, a slave-owner educated in rough-hewn schools on the American frontier, versus the young upstart Bishop, twenty-two years Rankin's junior, an early abolitionist educated at the prestigious University of Edinburgh in Scotland. Furthermore Rankin had laid his claim as the first minister to settle in the Bluegrass area, 20 years before Bishop came on the scene.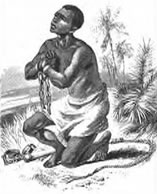 Rankin was the owner of a young slave named Lewis Hayden, who later escaped and became a leader of the anti-slavery black community in Boston, Massachusetts . He told a little of Rankin in a book, The Key To Uncle Tom's Cabin, which contained Hayden's account of his slavery experience.