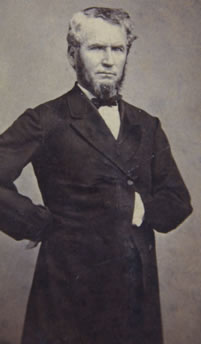 Neal McDougal Gordon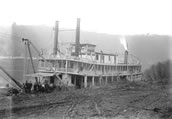 In November 1844, the Ebenezer Church entertained the General Synod of the South. After the meeting some of the commissioners engaged passage on the steamer, "Lucy Walker," bound for New Orleans. When the steamer was about five miles below New Albany, Indiana, there was an explosion and fifty passengers were killed and many wounded.
Reverend Neal McDougal Gordon
Served 1841-1870
Born: Elbert County, Georgia, November 13, 1813
Died: Jessamine County, Kentucky, March 19, 1871
Reverend Neal McDougal Gordon, son of John and Margaret McCurry Gordon was born in Elbert County, Georgia, November 13, 1813. As a child he had a weak constitution and his parents watched over him with deep concern. He was naturally studious and was given all of the advantages afforded by the nearby common schools. He graduated with the honors of his class from Miami University, Oxford, Ohio, in 1836.
Upon graduation from Miami University he began the study of theology in Erskine Theological Seminary, in Due West, South Carolina. In 1841 was assigned to the destitute churches in Kentucky and made his first visit to Ebenezer. He was installed pastor of Ebenezer Church May 13, 1843.
Gordon's reign at Ebenezer was by far the longest and most successful pastorship in it's history. He died in 1871 and is buried in Ebenezer Cemetery. His grave is close by the door of the church.
— In 1848 he began a school to train colored men to be missionaries in Africa.
— In 1846 Mr. Gordon attended the Presbyterian Council in London, England as a delegate from his Presbytery.
— 1841, married first wife , Martha Jane Harris of Maury County, Tennessee died in Kentucky, November 5, 1845
— 1849, married second wife, Catharine Smith of Indiana. Her father was Abraham Lincoln's pastor in Springfield, Illinois. After Lincoln became President, he appointed her father to Consul to Dundee Scotland.