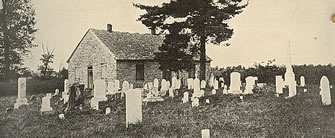 This photo appeared in History of Jessamine County by Bennett H. Young which was published in 1898.
"In this old building are the straight benches and the white painted pulpit which were used for more than fifty years. Around its deserted walls rests the dust of its faithful supporters for one hundred years; in silence and solitude these graves still speak of the faithfulness and consecration of the people of this church." — Bennett H. Young
Some of the earliest settlers to Jessamine County are buried in Ebenezer Church Cemetery. Many of the older stones date from the 1700's.
Ebenezer Cemetery Burial Records
Updated July 2015
Acrobat PDF
Ebenezer Soldiers
Ebenezer Families
Ebenezer Cemetery Records
Compiled by Howard C. Teater (1990)
Page One • Page Two • Page Three
Page Four • Page Five • Page Six