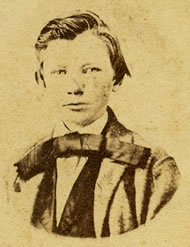 David Irwin Lowrey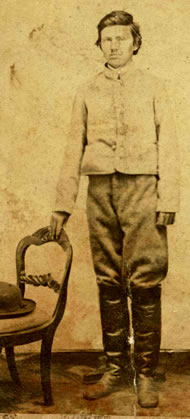 Samuel Craig Lowrey
Revolutionary War Soldiers
Robert Black
Peter January
Ephraim January
Walter Cunningham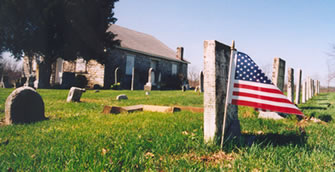 Civil War Soldiers
Among the Civil War Soldiers buried at Ebenezer are David and Samuel Lowrey. They were privates in Company B of the 8th Regiment of the Kentucky Cavalry and are descendants of Ebenezer's founding families.
David Irwin Lowrey was captured by Union forces in Mount Sterling, Kentucky on February 25, 1863. He was detained at Camp Butler in Illinois and died at age 22
Samuel Craig Lowrey was captured in Salineville, Ohio along with John Hunt Morgan on July 28, 1863. He died at age 24. The photograph was taken in Camp Douglas, a prisoner-of-war camp near Chicago, Illinois.
Send us your stories and photos
If you have photos or stories of soldiers buried in Ebenezer Cemetery we invite you to submit them by email: Contact Webmaster
Or you may write to the Ebenezer Cemetery Association:
Jaime Wilson, Treasurer
Ebenezer Cemetery Association
P. O. Box 455
Versailles, KY 40383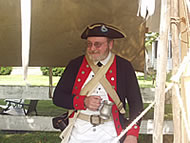 In 1999, the Revolutionary War Soldiers interred at Camp Nelson and the many others throughout Jessamine County, were celebrated in a county-wide Revolutionary War Soldier's Grave Tour.