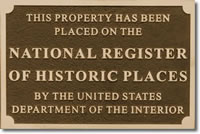 The Ebenezer Church is on the National Register of Historic Places.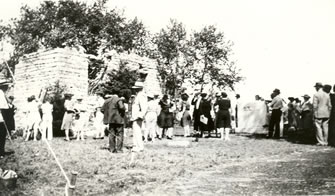 Association picnic 1940, note church in ruins in background.
After 200 plus years, the friends and descendants of the Ebenezer Presbyterian Church still meet annually on the second Sunday in September for a commemorative service and picnic lunch.
The Ebenezer Cemetery Association was formed in 1922 as a tribute to the memory of the Ebenezer pioneers. The association is dedicated to preserving and maintaining the church and grounds.
On Sunday, September 13, 1953, thanks to the Ebenezer Cemetery Association, the restored church was officially reopened.
2021 Association President: Mark Moore

Endowment Fund Contributions for the perpetual maintenance of the the Church and Cemetery are tax deductible. Please remit to:
Jeff McDanald, Website Administrator
Ebenezer Cemetery Association
111 Carolyn Lane
Nicholasville, KY 40356
Contact Website Administrator: Email


The Annual Picnic
is the second
Sunday in September,
rain or shine!
Basket Lunch 12:30
Service 2:00 p.m.
---