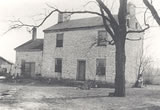 Ephraim January House circa 1900. Note two openings near the roof line which served for firing at marauding Indians according to descendant Dr. Lewis E. January of Iowa City, Iowa.
More Photos of the January House
Revolutionary War Bounty Land Grants

The land that the Ebenezer Church stands on was part of a Revolutionary War Bounty Land Grant given to Ephraim January for his military service. These Bounty Land Grants were responsible for much of the settlement in Jessamine County in the late 1700's and early 1800's.
The newly organized United States government offered free lands in exchange for military service, but they strategically did so on the presumption that they would be victorious in their struggle. They would not actually award the lands until the war had been concluded and the British defeated. Such a policy not only imposed no financial constraints on the war effort but also insured a degree of support for the Revolutionary cause. Bounty lands were an effective propaganda technique for enrolling support for the war among the citizenry and preventing them from lapsing into the British fold when the tide of battle ebbed.
The gift from Ephraim January

In a gesture of support for the Ebenezer Church, Ephraim January deeded part of his 1000-acre land grant, to the church in 1806. January made the terms for the trade generous -- only 10 dollars for one and one-half acres.

Read more about Ephraim January.
Among Ebenezer's first members were: Mr. and Mrs. William Evans, Mr. and Mrs. Thomas Woods, Mr. and Mrs. William Garrard, Mr. and Mrs. Robert Guyn, Mr. and Mrs. Ephraim Tanner, Mr. and Mrs. Thomas Read, Mr. and Mrs. Robert Black, Mr. and Mrs. James Black, Hugh Garrett, Robert Lowrey, Mrs. Nancy Drake and the Lambkins, Beattys, Longs, Scanlands, Reamers, Hedges, Phillipses, and Logans.
Surrounding the Ebenezer Church is the cemetery which contains graves of many of the church founders and their descendants: Guyn, Lowrey, Lowry, Gordon, Black, Moffett, Mahin, Woods, January, Crutcher, Young, Garrett, Steele, Beach, Montgomery, Renick, McCauley, Davis, and Simpson.
Send us your stories and photos
If you have photos or stories of Ebenezer Church, we invite you to submit them by email: Contact Webmaster
Or you may write to the Ebenezer Cemetery Association:
Jaime Wilson, Treasurer
Ebenezer Cemetery Association
P. O. Box 455
Versailles, KY 40383